Season's Greetings
Wishing you a Merry Christmas and a Happy New Year.
Best wishes, Councillor Owen J Hurcum, Mayor of Bangor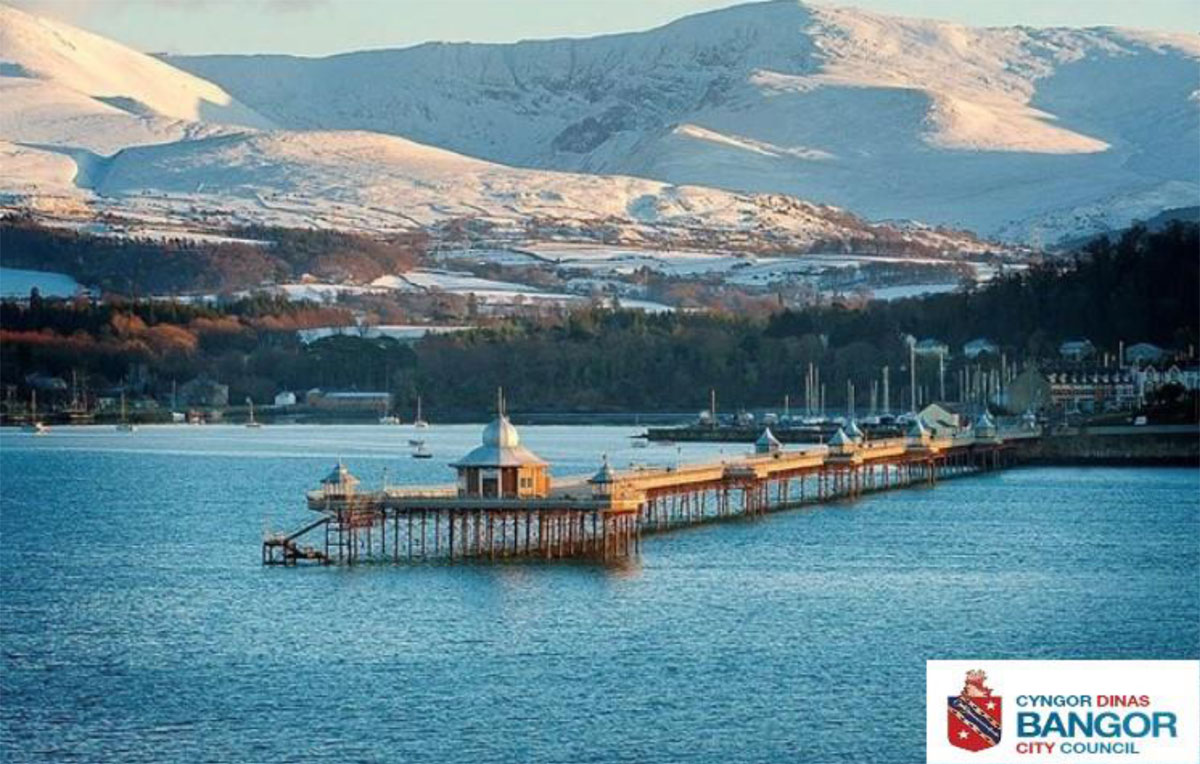 The market returns to Bangor High Street
3 December 2021

Today (3rd December) sees the return of the market to Bangor High Street. The market returns after a two year absence, mainly due to the Covid-19 pandemic. In September, Bangor City Council approved a proposal by the Artisan Market Company to run the new market, and preparations for the return have taken place over the past few weeks.
Stella McClure, Director of the Artisan Market Company, said:
"We're delighted to be given the opportunity to run the new market on Bangor High Street. Over the past few years we have worked hard to deliver a successful and sustainable market in Colwyn Bay, and plan to do the same in Bangor. We want the market to be a fun, lively and entertaining place, with a strong focus on local produce and a range of traders that cater to the needs of people of all ages and backgrounds. We're keen to play our part in increasing footfall in the city centre, and bring some vibrancy to Bangor on Fridays. We're very pleased to be launching in the run-up to Christmas, and we have some exciting plans for the coming weeks and months"
Councillor Owen J Hurcum, Mayor of Bangor, said:
"It is wonderful to see the market return to Bangor High Street. The High Street has seen significant challenges over the past two years, and a lively, busy and successful market is integral to the High Street's recovery and prosperity over the coming years. Bwyd Da Bangor has recently opened, the new Xscape Rooms is a new and exciting attraction close by, and the return of the market before Christmas is another fantastic addition to the High Street. On behalf of the Council, I'd like to thank the Bangor Market Company for their help and support, and wish the Artisan Market Company the very best for the future"
Vacancy: Interim Town Clerk
22/11/2021

Applications must be returned by 1st December 2021 by 5pm.
Bangor City Council has a vacancy for an Interim Town Clerk (Fixed Term Contract 6 months, up to 37.5 hours per week)
Salary: £38,890 (to be paid pro rata if working part time)
Start date: Preferably week beginning 13th December 2021
Due to the recent resignation of our City Director we are seeking an interim Town Clerk for our City Council whilst we recruit permanently.
Are you committed to serving the community?
Are you a careful administrator, a good communicator and an enthusiastic manager? Would you consider joining Bangor City Council as our interim Town Clerk?
Bangor is a small city in north west Wales, located between the Menai Straits and the Snowdonia mountains. Bangor is a University city and is the oldest city in Wales, housing a near 1500 year old Cathedral. Bangor has many attractions, including Bangor Garth Pier, owned and managed by the City Council.
We are seeking a dynamic and collaborative individual to serve the Council and the city over the coming months. You will be a self-starter, able to show initiative and to think on your feet. You will understand the functions of a town/community council.
The successful candidate will need to build a wide range of positive relationships with councillors, staff, residents, businesses and other organisations. You will also manage our small team of staff and take overall responsibility for all the City Council's administrative functions.
The interim Town Clerk is expected to be fully involved in supporting the Council to:
Manage the day-to-day affairs of the City Council: manage expenditure, organise Council and Committee meetings, provide support to members, represent the Council on external meetings
Engage with the community to identify their needs, priorities and wishes, respond to queries/complaints from the public
Show due regard to advance equality of opportunity for all residents
The successful candidate will:
Ideally hold a minimum of an ILCA/CiLCA qualification
have proven experience in administration
have a good understanding of local government and strong communication and IT skills
be familiar with accounting practices and financial management
be an effective manager of a staff team
Welsh language skills: desirable but not essential for this post
For an informal discussion about this opportunity please contact Iwan Williams, City Director on 07591 833760.
To apply please send your current CV and a covering letter stating how you can assist our city to townclerk@bangorcitycouncil.com
---
Closing date 5pm Wednesday 1st December 2021.
Interviews anticipated week beginning Monday 6th December 2021.
---
Halloween Pier get-together promises to be the fright of your life!
Ghoulish greetings await anyone brave enough to visit Bangor Garth Pier this Saturday 30th October, 3-7pm. Some frightening scenes are guaranteed for the family-friendly get-together, led by Bangor Arts Initiative and supported by Bangor City Council and Friends of Bangor Garth Pier.
Mayor of Bangor, Cllr Owen J Hurcum said:
"We're delighted to have the Halloween get-together on the Pier this Saturday. Visitors are encouraged to wear Halloween costumes, the Encôr choir will be performing along with a Samba band and circus acts. I would like to thank Bangor Arts Initiative for leading on this, as well as Cllr Enid Parry for her hard work in planning for the occasion.
I would also like to thank Friends of Bangor Garth Pier (FBGP) for their help and support. Under the leadership of Chair Avril Wayte, FBGP have made an invaluable contribution to the success of the Pier in recent months. Thanks to their volunteers, over £5,000 was collected on the Pier in August and all proceeds go towards maintaining the Pier. Their presence on the Pier has made a real difference and the City Council is very grateful for their continued support.
I would encourage people to visit Bangor Garth Pier on Saturday afternoon and some spooky scenes are guaranteed!"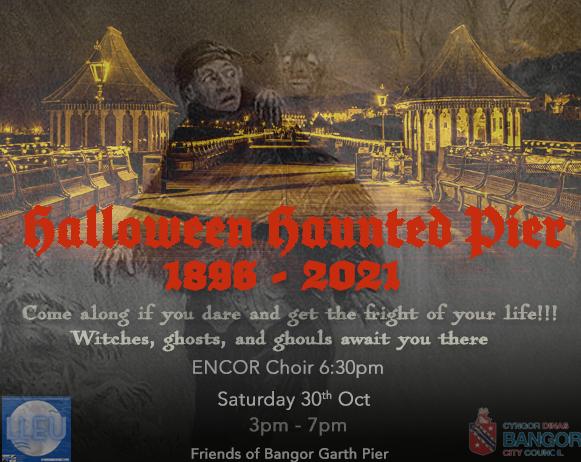 Unveiling of Ashley Jones Fields Information Board
21/10/2021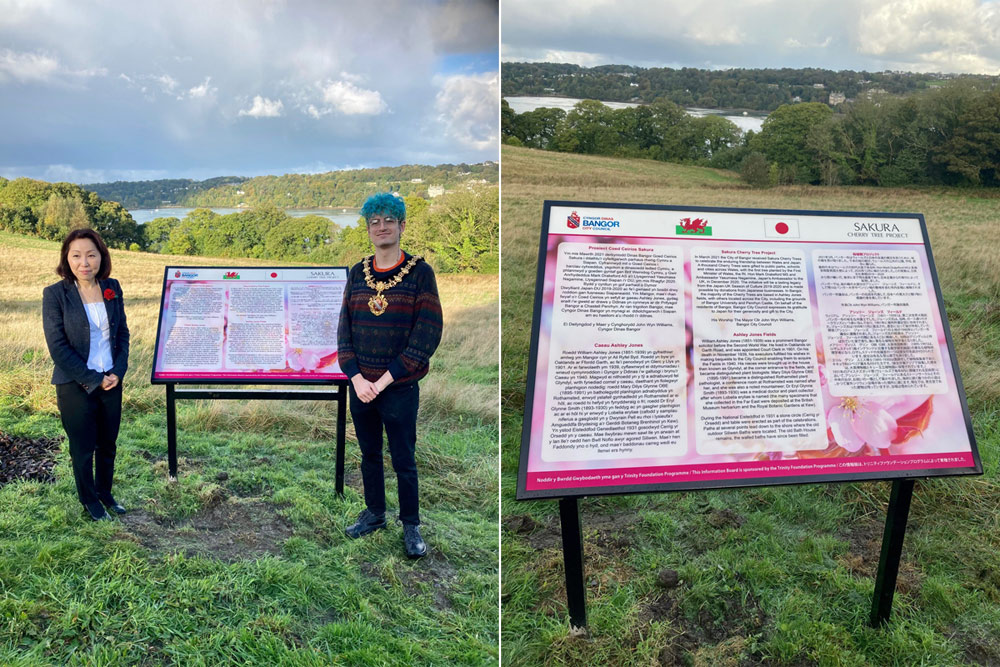 Today (21st October) a new Information Board for Ashley Jones Fields was unveiled by Mayor of Bangor, Cllr Owen J Hurcum, and Kumi Sunada, Principal of the Trinity Foundation Programme. The trilingual Information Board, including Welsh, English and Japanese, includes details on the history of the fields, the Japanese Sakura trees planted in the fields and elsewhere in Bangor in the spring, and on Ashley Jones himself. Ashley Jones was a prominent Bangor solicitor and bequeathed the fields to the city of Bangor upon his death in 1939.
Mayor of Bangor, Cllr Owen J Hurcum said:
"I'm delighted to unveil this Information Board for Ashley Jones Fields today. The fields are a special place in Bangor and loved by many. As a Council, we have worked hard to improve the fields during 2021 and the new Board will accompany the Japanese Sakura trees and the Beatles friendship bench, recently installed in the fields. The Board is sponsored by the Trinity Foundation and on behalf of the City Council, we are incredibly grateful for their help, support and generosity in sponsoring this new feature"
Kumi Sunada, Principal of the Trinity Foundation Programme said:
"We're very pleased to sponsor the Information Board for Ashley Jones Fields. We have worked with the City Council on the Sakura trees project over recent months, and the Information Board strengthens our working relationship. The Trinity Foundation Programme / International Federation of Universities provides help, support and advice for Japanese students studying in Bangor, and offers a specialised programme before students embark on their degrees. We have welcomed Japanese students to Bangor for many years and are delighted to see the links between Bangor, Wales and Japan go from strength to strength"
Bangor Garth pier to turn pink and blue to support Baby Loss Awareness Week 2021

This year, for Baby Loss Awareness Week (9th-15th October), Bangor City Council have partnered with baby loss charity, Our Sam, to raise awareness for baby loss, by turning Bangor Pier pink and blue with night time illumination and ribbons.

North Wales based baby loss charity, Our Sam, and local volunteers, gathered on Bangor pier on Friday 8th October to decorate Bangor pier with hundreds of pink and blue ribbons, as part of the annual pink and blue, baby loss awareness campaign, led by the UK Baby Loss Alliance.

The beautiful Grade II listed, 470m Bangor Garth Pier, is the second longest pier in Wales, and this year celebrates its 125th year anniversary.
Philippa Davies, Founder of baby loss charity, Our Sam said "We were absolutely delighted when we approached Bangor City Director, Iwan Williams, asking if he would consider showing support for Baby Loss Awareness Week, by joining the pink and blue campaign, and turn any of the wonderful local buildings or landmarks in Bangor, pink and blue, and he suggested Bangor Garth Pier. As such a beautiful and visible landmark, this is a tremendous show of support for bereaved parents and families, and to raise awareness for the more than a quarter of a million people affected by baby loss following miscarriage, stillbirth, neonatal death and SIDS in the UK each year. We would like to thank Bangor City Council and Iwan Williams for their support, and all the volunteers who have supported us to decorate the pier with hundreds of pink and blue ribbons. Baby loss remains an incredibly taboo and difficult subject for many to talk about, but it is important that we do, to reduce isolation for all those having to face this heart -breaking trauma."
Iwan Williams, Bangor City Director, said "We were very pleased to be asked, and proud to be able to show our support, and help to raise awareness of baby loss for baby loss awareness week here in Bangor. Baby loss is so incredibly difficult for those who have had to go through this sad loss, but there are still many who have no idea of the extent of the number of people affected, and the significant effects, this often-hidden loss has on the lives of many parents and families."
Bangor Garth Pier will be lit and decorated from the 9th – 15th October. If you are a bereaved parent affected by baby loss, and need support, you can contact Our Sam, member organisation of the UK Baby Loss Alliance, through the Our Sam website oursam.org.uk .If you would to know more about baby loss awareness week you can go to babyloss-awareness.org
---
*(Our Sam Charity and volunteers will be available for photographs on the pier on Friday 8th October from 10.30am)

Hollywood, Pinewood…Pierwood!
23/08/2021

Bangor Garth Pier proving a hit with film companies
Bangor Garth Pier has long been an attraction for the locals, visitors, students and tourists. It has also attracted a number of film companies over the years, with many eager to make the most of the incredible scenery the Pier offers in all directions, not to mention the warm welcome on the Pier!
This summer has proved no exception, and Bangor City Council, Friends of Bangor Garth Pier and kioskholders have been delighted to welcome a number of film production companies to the Pier in recent weeks:
On 7th July, BBC Wales were on the Pier as part of the Gorwelion/Horizons Summer Tour music scheme, with a solo performance by Casi Wynand a joint performance with Eve Goodman and Beth Celyn
On 12th July, ITV Wales visited to film representatives from Bangor City Council and Friends of Bangor Garth Pier for the 'Coast and Country' programme, which aired on 12th August (available here)
On 13th July, Rondo Media filmed on the Pier for the 'Cynefin' programme
On 21st July, Anglesey School of Dancing performed and filmed on the Pier
On 18th August, BBC Radio Cymru visited the Pier for a large-scale filming production involving Tudur Owen's programme
On 22nd August, local celebrity and fundraiser Wynne 'Elvis' Roberts performed on the Pier and was filmed by S4C
Cllr Owen Hurcum, Mayor of Bangor, said:
"At this point I think Bangor Pier is probably north Wales' biggest TV star having appeared in a huge range of television shows, films and radio promotions, and I think anyone who knows it can see why. It's an amazing place and give me so much pride to know out Pier is getting seen across the world and I am certain that many of those who see it on their screens will be dying to see it in person, experience it up close as we have had the pleasure of doing for the last 125 years"
Avril Wayte, Chair of Friends of Bangor Garth Pier, said:
"Our charity is delighted to be able to work with and support Bangor City Council in these wonderful days for our pier. We are so happy that the pier's vibrancy is recognised so widely, and that we have these opportunities to show it off for the world to see."
Who needs Hollywood or Pinewood when you can have the Pier? Bangor City Council is very grateful for the cooperation of these film companies over the summer weeks, and looks forward to welcoming many more over the coming months and years.
Pictures (left to right): Gorwelion/Horizons Summer Tour filming with Casi Wyn, Eve Goodman, Beth Celyn and Luke Jones 7th July; Mayor of Bangor Cllr Owen Hurcum ITV 'Coast and Country' interview 12th July; Rondo Media 'Cynefin' programme filming 13th July; Anglesey School of Dancing filming 21st July; BBC Radio Cymru filming with Tudur Owen and Mr Phormula; also welcomed by Mayor of Bangor Cllr Owen Hurcum 18th August; Wynne 'Elvis' Roberts performing on the Pier 22nd August and meeting Avril Wayte, Chair of Friends of Bangor Garth Pier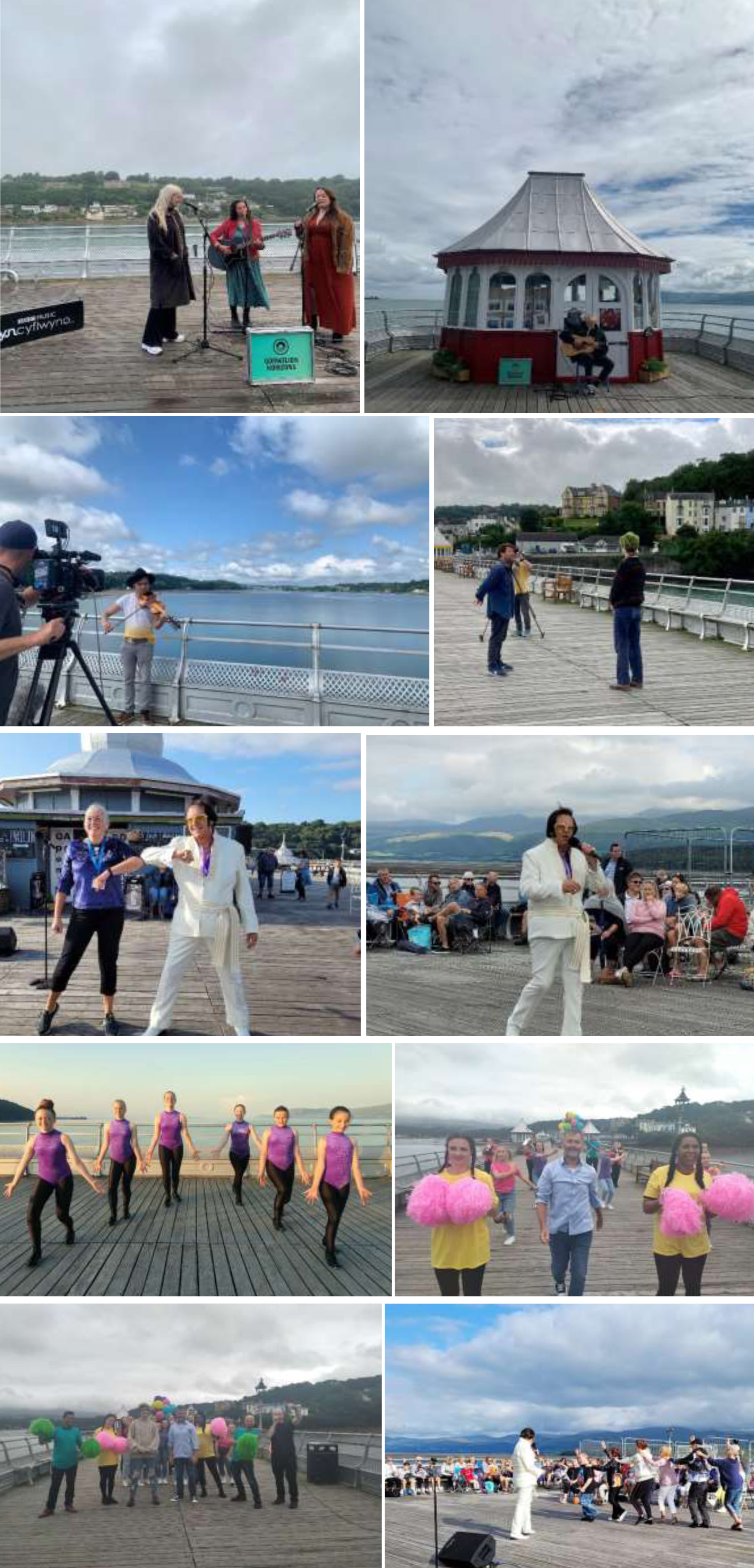 Notice of Co-option
29/06/2021
Notice of Co-option Section 116 Local Government (Wales) Measure 2011
Dewi Ward
Notice is hereby given that 1 vacancy has occurred in the office of Councillor for the above mentioned Community/Ward, and the City Council intends to co-opt.
Expressions of interest are being sought from members of the public who meet the following qualifications and are interested in representing their community on the aforementioned City Council. You must be a British, Commonwealth, Irish or a European Union citizen and be 18 years of age or over; and meet at least one of the following criteria:*
registered as a local government elector for the area named above; or
during the whole of the last 12 months occupied as owner or tenant land or other premises in the community named above; or
your principal or only place of work during the last 12 months has been in the community named above; or
you have during the whole of the last 12 months resided in the Community or with 4.8 kilometres of it.
*Certain people are disqualified from standing, and these include paid officers of the community council, anyone subject to bankruptcy restriction orders and those subject to recent sentences of imprisonment. It is the responsibility of the candidate to ensure that they are qualified to stand.
If you wish to be considered for co-option for the vacant seats(s) or want more information regarding the role of a Community Councillor please contact the Proper Officer, Clerk to the Council Community on/at townclerk@bangorcitycouncil.com; 01248 352 421 by 16/7/21.
Signed: Iwan Williams
Dated: 29/6/21
Clerk to the Council
---
Give blood in Bangor this June
14/06/2021
3 lives could be saved with just one hour of your time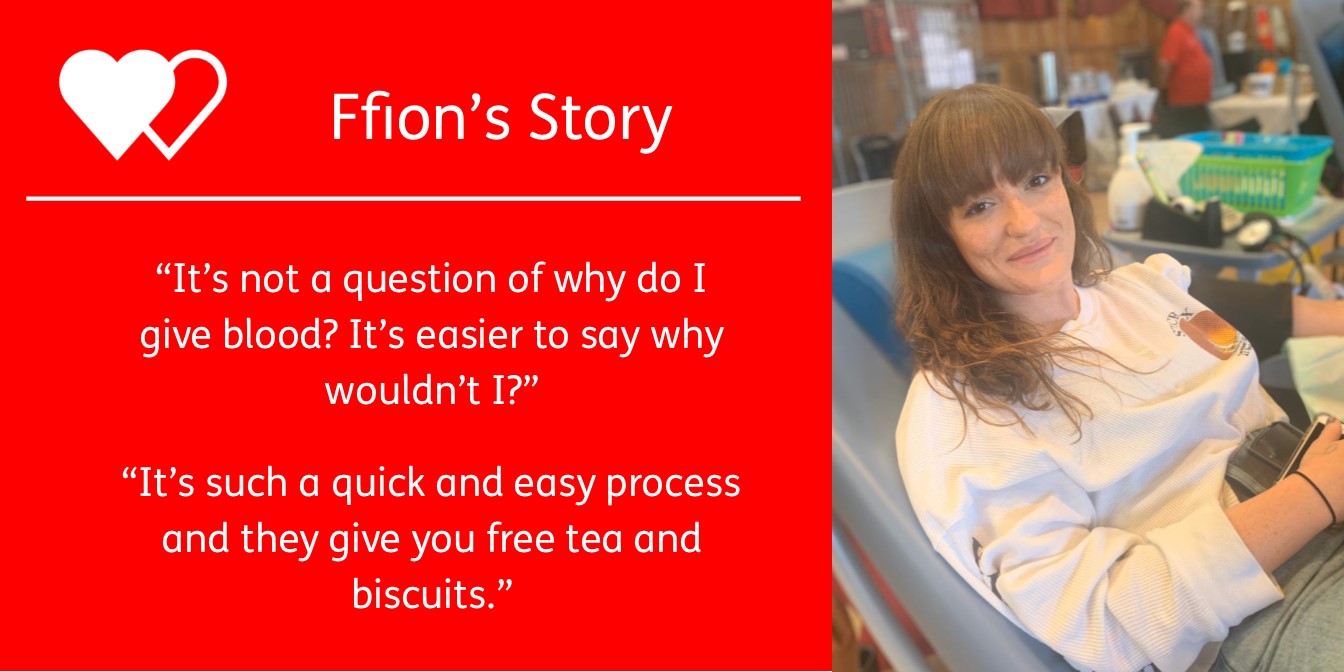 City Of Bangor Council Casual Vacancy- Dewi Ward
01/06/2021
Notice is hereby given of a casual vacancy in the office of councillor in Dewi ward on City of Bangor Council.
An election will be held to fill the vacancy if a request in writing for an election which includes the signatures of ten electors of the above ward is sent to: The Returning Officer, Gwynedd Council, Council Offices, Caernarfon, Gwynedd LL55 1SH within the period ending at 12 noon on Monday, 21 June, 2021.
In the absence of a request for an election, the vacancy will be filled by the City Council.
---
BANGOR GARTH PIER CELEBRATES 125th YEAR ANNIVERSARY
14 May 2021

Today (14th May 2021) Bangor Garth Pier celebrates its 125th year anniversary. On this day in 1896, Lord Penrhyn officially opened the pier following a procession through the city and a crowd of over 5,000 people assembled to watch the opening ceremony. This year, the situation is markedly different. A large-scale event is not possible due to the Covid-19 pandemic, however celebrations proceed nonetheless. At 11am, the Mayor of Bangor Cllr Owen Hurcum will unveil a new plaque commemorating the 125th year anniversary. Following social distancing rules, the Mayor will be joined by other members of Bangor City Council, kioskholders and representatives of Friends of Bangor Garth Pier (FGBP), a new volunteer group working with the City Council to provide help and support to visitors on the pier and ensure that the pier thrives and has a sustainable future.
Ahead of the important date, Mayor of Bangor Cllr Owen Hurcum said "Our pier is the jewel in the crown of our great city, affording all who venture upon it some of the finest views imaginable. It has stood as an asset to our city for over 125 years, and it has served the people of this city throughout this time. The pier has faced numerous challenges throughout its journey and perhaps none more-so than the recent structural repairs that have seen an incredible investment of over £1.8m to ensure the survival of this structure for the next 125 years."
"We can't turn out as a city today to celebrate its momentous anniversary, but we can, and we will, celebrate the pier in our own way moving forward. The pier is in the lifeblood of this city, it's part of Bangor's hiraeth and I very much look forward to seeing its history to come."
Avril Wayte, Chair of Friends of Bangor Garth Pier, said:
"It is a huge privilege for us to be involved with Bangor Garth pier, and play a pivotal role in protecting the pier for the future, especially so as we are enabling the local community to take part in that process. Our pier - owned by the City Council and loved by all."
The pier will be lit up this evening to celebrate the special anniversary. With the large-scale event delayed by a year until May 2022, Bangor City Council and Friends of Bangor Garth Pier will celebrate the anniversary in different ways over the coming months. A series of interviews, discussions and presentations on the history of the pier and the area will be published online, with a number of small-scale events and activities scheduled to take place on the pier later on this year, subject to Covid-19 regulations. A Digital Programme will also be published today to acknowledge the important date.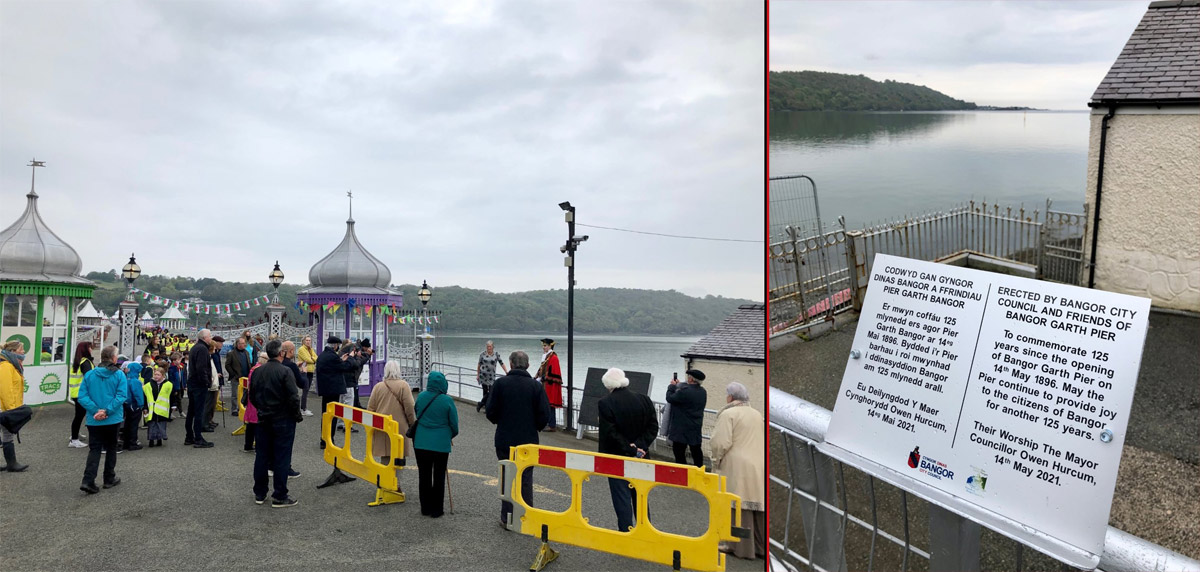 ---
Bangor Garth Pier: 125th year anniversary Digital Programme
New Mayor for Bangor 2021/22
11 May 2021
Annual Meeting 10th May: The Council voted for Cllr Owen Hurcum as the new Mayor of Bangor for 2021/22. The Council also voted for Cllr Gwynant Roberts as the new Deputy Mayor. The Council thanked the former Mayor Cllr John Wyn Williams for his hard work and leadership over the past two years, and welcomed Cllr Hurcum to their new role.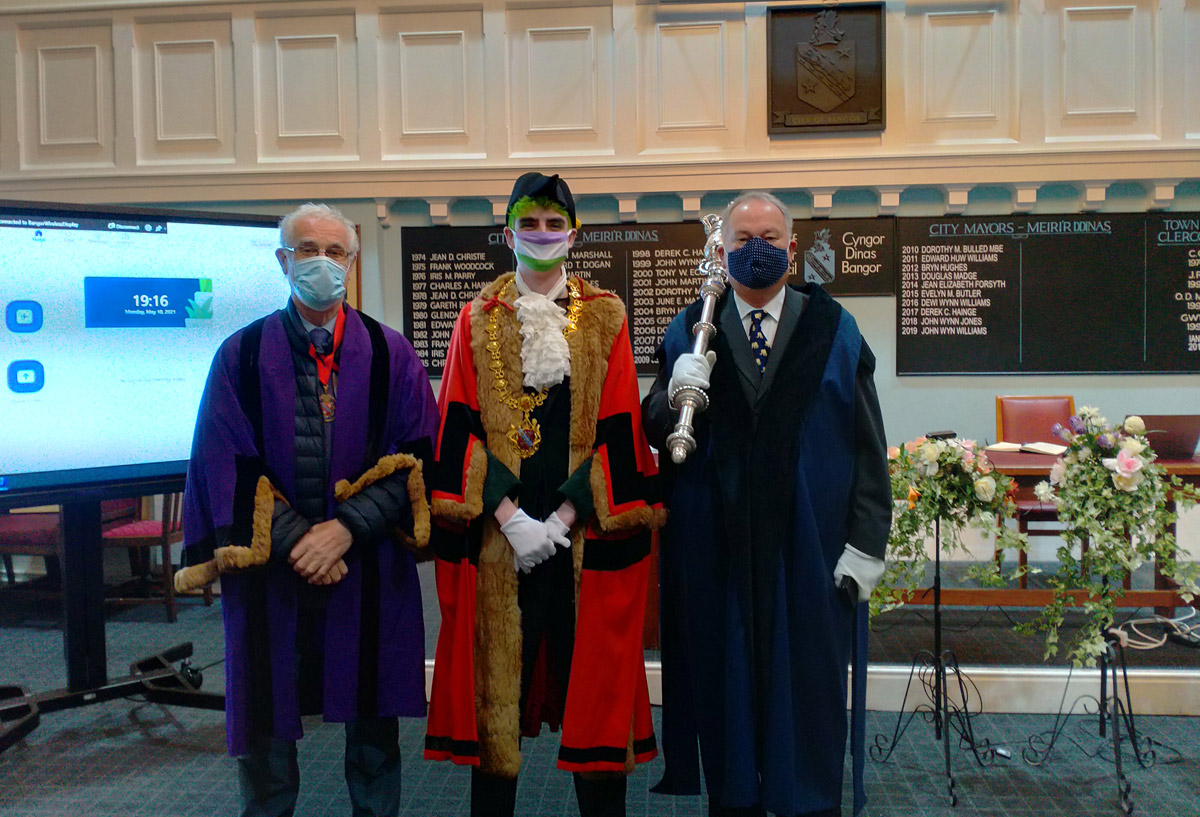 4 May 2021
Bangor becomes first Welsh Council to support Treaty on Prohibition of Nuclear Weapons
Bangor becomes first city in Wales to be awarded 'Plastic Free Communities' status
---
Covid-19 Day of Reflection: Bangor Garth Pier
23 March 2021
Bangor Garth Pier will be lit up in yellow this evening, 23rd March, to help remember all those who have lost their lives to Covid-19. Other buildings and landmarks across Wales will also be lit up, marking the anniversary of the first Covid-19 lockdown. At 8pm, people are encouraged to stand on their doorsteps with phones, candles and torches to signify a 'beacon of remembrance'. Any visitors to Bangor Garth Pier are reminded to follow social distancing rules.
---
Gradual easing of Covid19 restrictions
Responding to the Welsh Government announcement on 12th March, Mayor of Bangor Cllr John Wyn Williams said:
"We welcome the announcement from the Welsh Government that Wales is taking the first steps out of lockdown. We understand the need for a gradual and phased approach generally in order to keep people safe and manage the spread of coronavirus. We express disappointment however that non-essential retail businesses won't be able to re-open until 22nd March. And other businesses won't be able to re-open at all in March. The past year has been incredibly difficult for Bangor businesses, and the pandemic has caused huge uncertainties over their future. We ask that these businesses are able to re-open as soon as possible, as they are able to welcome customers whilst adhering to Covid19 rules"
---
Bangor Business Improvement District (BID) Ballot
Responding to the ballot result on 12th March, Mayor of Bangor, Cllr John Wyn Williams said:
"We welcome the news that the Bangor Business Improvement District (BID) Ballot is successful. This means an investment of over £740,000 in Bangor over the next five years. Bangor City Council will be working closely with Bangor First and other partners to ensure that the next BID term benefits Bangor businesses and residents, and that the BID helps the development of the city as a good place to live, work and invest in"
Sakura Cherry Tree Project
On 2nd March 2021 the City of Bangor received Sakura Cherry Trees to celebrate the enduring friendship between Wales and Japan. A thousand Cherry Trees were gifted to public parks, schools and cities across Wales, with the first tree planted by the First Minister of Wales, the Rt. Hon Mark Drakeford MS and Ambassador Yasumasa Nagamine, Japan's Ambassador to the UK, in December 2020. The initiative will be a lasting legacy from the Japan-UK Season of Culture 2019-2020 and is made possible by donations from Japanese businesses.
In Bangor, the majority of the Cherry Trees are based in Ashley Jones fields, with others located across the City, including the grounds of Bangor University and Penrhyn Castle. Mayor of Bangor Cllr John Wyn Williams said "On behalf of the residents of Bangor, Bangor City Council expresses its gratitude to Japan for their generosity and gift to the City. We welcome the Sakura Cherry Trees and they will be an asset for Ashley Jones fields and in other locations, something that current and future generations can enjoy and appreciate".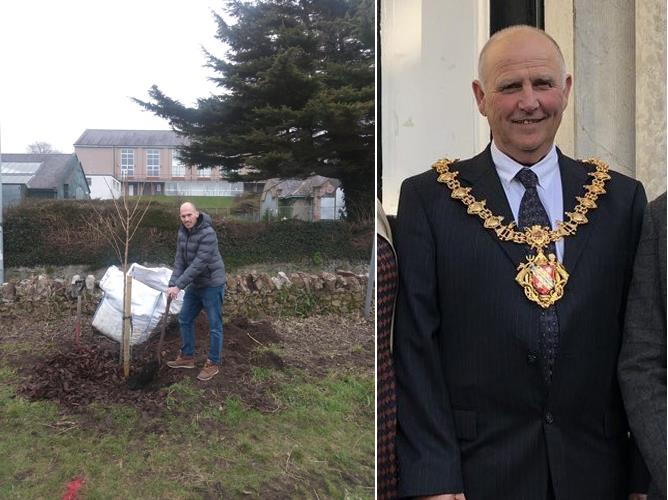 Left: City Director Iwan Williams plants a tree in Ashley Jones fields. Right: Mayor of Bangor Cllr John Wyn Williams

---
St David's Day Celebrations 2021
The Council is working with its partners once again to celebrate St David's Day this year. Further information on the programme of activities and events (24th February – 5th March) may be found here: Gŵyl Dewi Bangor - Home | Facebook
---
Pier Update (February 2021)
There are no major structural works taking place at the moment. Four stages of the restoration project have been completed, with two remaining. The priority over the coming months will be painting parts of the Pier, treating some of the planks and addressing the Linkspan at the end of the Pier. This work will commence later on this year.
The City Council are exploring funding opportunities with partners to improve the Pier and to ensure its sustainability going forward. The 125th anniversary of the Pier takes place on 14th May 2021. Due to the current Covid-19 pandemic, a large-scale event will not be possible however the Council is looking at alternative arrangements, with further details to be published closer to the date.
---
Bangor City Council City Director
The Mayor, Councillor John Wyn Williams, announces that Mr Iwan Marc Williams has been appointed to the role of City Director for Bangor City Council and he will start in the role on 1st January 2021.
Mr Williams is originally from Llandysul and has lived in Bangor, with his wife and two small daughters, for over a year. He has experience of working in the public sector both in Wales and also in Europe.
Best wishes are extended to him in this new role and grateful thanks are offered to Dr Martin Hanks who has fullfilled the role of City Clerk in the recent past.